Welcome back! We hope you've had a great start to the new school year.
Are you as excited about the solar eclipse as we are?! We'd love to hear what you plan to do, or what you did with your students. Leave a comment or tweet us @svvsditc
Science Coordinator, Mike O'Toole, partnered with Nearpod to create a slidedeck that includes some questions, safety instructions and resources to get us thinking about and prepared for the upcoming solar eclipse. One of my favorite resources is the flying along the path and mapping the path from Esri. Here's a clip.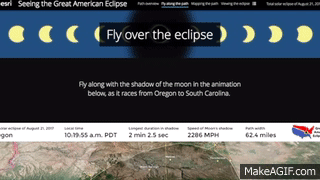 Below is the Nearpod that you can use with students. If you want to have a copy that allows you to see your students responses you will need to add the slidedeck to your library. If you have a District Edition license you can find it in the District Library. If you don't have a license but one one, go here to find out how to get one.